Posted by XYZ Random on May 22, 2012
0 Comments
This is controversial…See what kind of people are out there in the world preaching and actually leading people by 'evil' example. God wouldn't want this to be preached in his name if he existed…or would he? Check it out and leave your thoughts in the comments at the bottom of the page.
——————-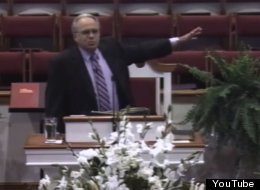 The barrage of anti-gay sermons delivered by North Carolina-based pastors to hit the blogosphere continues with yet another disturbing rant caught on tape.
The pastor, identified on YouTube as Charles L. Worley of Providence Road Baptist Church in Maiden, N.C., condemns President Obama's much-publicized endorsement of same-sex marriage while calling for gays and lesbians to be put in an electrified pen and ultimately killed off.
"Build a great, big, large fence — 150 or 100 mile long — put all the lesbians in there," Worley suggests in the clip, reportedly filmed on May 13.
He continues: "Do the same thing for the queers and the homosexuals and have that fence electrified so they can't get out…and you know what, in a few years, they'll die out…do you know why? They can't reproduce!"
He also said that if he's asked who he'll vote for, he'll reply, "I'm not going to vote for a baby killer and a homosexual lover!" Many of the congregants cheer and reply, "Amen."
Worley added, "It makes me pukin' sick to think about — I don't even whether or not to say this in the pulpit — can you imagine kissing some man?"
The pastor's comments seem in line with statements made by Ron Baity, founding pastor of Berean Baptist Church in Winston-Salem and head of the anti-marriage equality organization Return America, who told his own congregation that lesbian, gay, bisexual and transgender (LGBT) people should be prosecuted as they were historically, and Pastor Sean Harris of the Berean Baptist Church in Fayetteville who advocated parents "punch" their male child if he is effeminate and "crack that wrist" if he is limp-wristed.
Similarly, Tim Rabon, pastor at Raleigh's Beacon Baptist Church, condemned states such as Massachusetts, Connecticut and Maryland which have already "re-defined" marriage to include lesbian, gay, bisexual and transgender (LGBT) couples before asking his congregatnts, "What is stopping them from refining marriage from a person and a beast? We're not far from that."
———————
This article was taken from the following page: http://www.huffingtonpost.com
———————
Don't forget to share and like if you'd like this to reach every corner of the world.
Now, whether Gay or not, lesbian or heterosexual, black or white, asian or american, man or woman, young or old, political or apolitical…everyone can and SHOULD be FREE.
Freedom is not an option, it's a MUST for everybody. We are here to be free and happy…to enjoy the ride and opportunities that life provides. Right?
Why aren't you free yet? Because you haven't taken action in order to be it…it's that easy. Now click here now and see what I mean by having the lifestyle you've ever dreamed of, and all by just blogging about what I like and feel attracted to.
Have a limitless day and achieve your dreams starting TODAY,
Demian Cáceres (the freedom and lifestyle mentor)